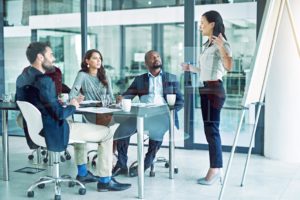 —- ** FOR NEW STUDENTS ** —————————————- ———-
——————————————————– ———————————————–
General discussion about your workweek:
——————————————————– ———————————————-
https://www.forbes.com/sites/forbesbusinessdevelopmentcouncil/2019/04/17/how-to-build-an-effective-employee-mentoring-program/#114f65622e57
Employee mentoring programs can enable you to get more from your most valuable resource, your employees. Further developing the talent you already have through mentoring could lead to a variety of business benefits, including company growth, increased innovation and higher profits. On the flip side, it also proves to employees that their employer values them and wants to invest in their potential future with the business. In fact, millennials planning to stay with their employer for more than five years are twice as likely to have a mentor than not, according to The 2016 Deloitte Millennial Survey.

Along with improved retention rates, I've found that mentoring programs within businesses can increase employee job satisfaction levels and boost productivity. After successfully building and implementing a mentoring program at my company, a tech and digital marketing staffing agency, here's what I learned about making it work for your business.
What Does A Successful Employee Mentoring Program Look Like?
How To Build An Effective Employee Mentoring Program
Now that you know why it's crucial to implement an effective mentoring program within your business and the results it can produce, here's how to make sure you do it right.

Define the purpose of the program. First things first: what is the objective for your mentoring program? This will determine the structure you need to produce the results you're after. What works for some teams might not work best for others. We developed a program for the sales side of the business initially. When we found success there, we then developed a similar but tailored program to