Warm up
—- * * FOR NEW STUDENTS ** ————————————— ————
————————————————– —— ——————————————– ——- —
General discussion about your workweek:
————————————————– —— ——————————————– ——–
1. In the investing world, money talks. On rare occasions, however, vindication is even better than a giant mountain of cash. Over the past decade, the true believers of the cryptocurrency revolution have turned what was once considered an oddball peanut gallery in the financial world into the next trillion-dollar asset class. And as they count their digital coins, they're ready to take a bow.
2. Take Cameron Winklevoss, the cryptocurrency entrepreneur who, alongside his twin brother, Tyler, sued Facebook, claiming Mark Zuckerberg stole their idea for the social networking site. In 2012, the Winklevii took the relative pittance Zuckerberg flicked at them to go away and stashed it in bitcoin. They were mocked for years. Two Harvard-educated rowers seeking fame and fortune in digital currencies—alongside nerds, anarchists, speculators and worse. Now bitcoin is soaring to new highs and pulling in a stampede of followers from mainstream finance and society. As Zuckerberg has become more controversial, the Winklevii have something to say about moving on from Facebook: good riddance.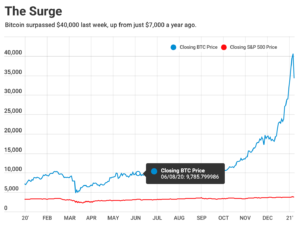 3. "Bitcoin has surpassed Facebook $FB in market cap," tweeted Cameron Winklevoss as bitcoin soared over $40,000 per coin, then $41,000 and beyond, on Friday. Added Winklevoss, "Makes sense that a money network would be more valuable than a social network." Sure, the Winklevii still have a lot of catching up to do—Mark Zuckerberg is worth $94 billion—but the bravado isn't exactly misguided: The recent surge in crypto means that Forbes estimates each of the Winklevii owns $1.4 billion in digital assets, as of Monday morning, more than double what they were worth just a month ago.
4. Over the past year, the gravity-defying stock market has given most investors a reason to grin, but none are smiling wider than bitcoin holders. While the S&P 500 has jumped 17% from the start of January 2020 through January 11, 2021, bitcoin has spiked 400% in that same time, breaching $40,000 a coin and sweeping other digital assets into its rising tide. All cryptocurrencies are now collectively worth more than $920 billion, according to crypto research site Messari, down from roughly $1 trillion on Friday.
5. One key factor driving the frenzy: As Covid led the Federal Reserve to print trillions of dollars to stimulate the economy and head off a recession, investors increasingly saw bitcoin as a hedge against inflation. Unlike the 2017 price rally from $1,000 to $19,000, which was driven by retail investors, the recent uptick has been propelled by large institutional investments and a proliferation of ways to buy and store crypto.
6. In 2020, payments giant Square used $50 million of its corporate treasury to buy bitcoin—an investment now valued at $161 million. Hedge fund billionaire Paul Tudor Jones said as much as 2% of his assets were in crypto, and private equity giant Northern Trust revealed plans to make it easier for its clients to store bitcoin, ethereum, XRP, litecoin and bitcoin cash. PayPal lets its 300 million customers buy bitcoin and spend it at any of the 26 million merchants it supports.
7. Along the way, some crypto investors have gotten very rich. At least five have recently crossed into the billionaire ranks, possibly quite a few more. Using everything from publicly available digital wallets to old-fashioned reporting, we set out to identify some of the biggest winners of this latest crypto boom. It is by no means a complete ranking but captures just how much some fortunes have soared.
8. All cryptocurrency values are as of January 11, 2021, at 8 am EST. For Forbes' last cryptocurrency billionaires list from February 2018, we calculated the value of entrepreneurs' company stakes and their cryptocurrency investments. For this list, we only included their cryptocurrency investments.

Cameron & Tyler Winklevoss
Est. cryptocurrency net worth apiece: $1.4 billion
9. The cofounders of cryptocurrency exchange Gemini, which now does about $300 million a day in digital asset trades, were among the first recognizable names to buy bitcoin. By April 2013 the entrepreneurs, who initially rose to fame for hiring Mark Zuckerberg to build a precursor to Facebook (and later sued Facebook for stealing their idea), reportedly owned $11 million worth of bitcoin, then valued at about $120 per coin. Assuming they've held on to most of those coins and their ether tokens, they'd each hold more than $1.4 billion in digital assets. (The brothers declined to comment.)

Matthew Roszak
Est. cryptocurrency net worth: $1.2 billion
10.